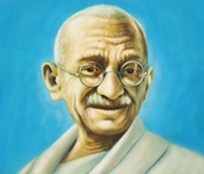 About Sarvodaya International Trust, The Jammu & Kashmir Chapter.
The Sarvodaya International Trust, the Jammu & Kashmir Chapter, is an international organisation working to promote Gandhian ideals and values among the youth of India. The Jammu & Kashmir Chapter was formed to revive and spread Mahatma Gandhi's moral ideals and action programs in the state of Jammu & Kashmir in a manner relevant to contemporary times.
The Trust pursues it's aims with a number of meaningful activities through out the year ,such as essay writing, debates, elocution, quiz, poetry writing, music and other such competitions for school and college students. Prizes are sponsored by the Trust itself. It conducts several other events such as panel discussions,khadi and other eco-friendly fabric exhibitions, peace marches, film and documentary screenings, etc for the general public.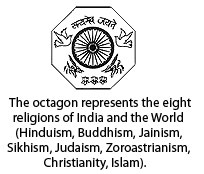 Logo
The octagon represents the eight religions of India and the World (Hinduism, Buddhism, Jainism, Sikhism, Judaism, Zoroastrianism, Christianity, Islam). The centre of the octagon has the 'Dharma Chakra' which represents the common moral essence of all religions. Above it, in Sanskrit, is 'Satyameva Jayate' which means 'Truth always triumphs'.
The doves represent Peace and the Lotuses represent Non Violence.The sheaves of wheat and rice on either side represent the north and south of India and the northern and southern countries of the world. The crest thus represents Sarvodaya International Trust's Gandhian objectives and international character.